Dharamshala tourism is at its peak during summer, when the temperature is at its peak. There are a lot of other attractions in Dharamshala like the charming St. John Church, headquarters of His Holiness the Dalai Lama, Dal Lake, etc. that draw tourists from different parts of the country.
Best Time to Visit Dharamshala : The day temperature is very pleasant in Dharamshala and nights are cool, and so the tourist rush is always high in this gorgeous hill station. However, the months between March and June are the best time to visit Dharamshala as it doesn't get too cold or hot during this season. For someone who loves rainy season, do visit this hill station during the months of July and August as Dharamshala presents some very scenic views of the freshly washed forests. But, make sure that your journey is safe and comfortable as cases of landslide are quite common during monsoon.
Winter too is the best time to visit Dharamshala, especially for someone who wants to experience snowfall. The temperature even drops to C in winter, and so the months between December and February are the best to catch a glimpse of chilly Dharamshala.
My Tempo Traveller offer to book cheap and best travel deals on budget rates online provides low price tour and travel hotel packages, We offer 9, 12, 14, 15, 16, 17, 18, 20, 22, 26 seater Luxury Tempo Traveller Hire in NCR.

Luxury Tempo Traveller Hire in Delhi Noida on Rent at Cheapest Price Per Km 7,9,10,12,16,18,20,26 Seater Luxury Tempo Traveller on Rent in Delhi

Tempo Traveller Hire Delhi, Tempo Traveller Hire in Delhi
Specifications : ( Ac Tempo Traveller )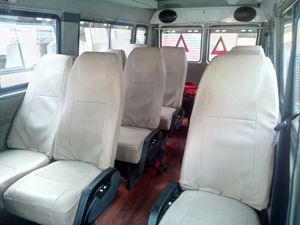 Fully pushback & sofa seats

Leather fabric upholstery

High Music system

Color LCD screen(as per the availability)

Both AC & Non AC variant available

Icebox, First Aid Box

Expert Driver in uniform

Roaming mobile phone with Car and driver.
(Terms and conditions For Tempo Traveller)
Time and Kilometers will be calculated from Delhi Our Office

Driver Allowance Rs.300 per day

All Government Inter State Taxes

Toll Fees and Parking will be charged extra as actual.

Minimum 250 km per day

---
Specifications : ( Ac Tempo Traveller )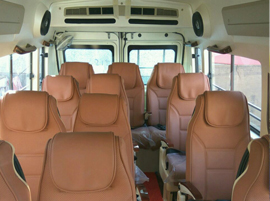 Fully pushback & sofa seats

Leather fabric upholstery

High Music system

Color LCD screen(as per the availability)

Both AC & Non AC variant available

Icebox, First Aid Box

Expert Driver in uniform

Roaming mobile phone with Car and driver
(Terms and conditions For Tempo Traveller)
Time and Kilometers will be calculated from Delhi Our Office

Driver Allowance Rs.300 per day

All Government Inter State Taxes

Toll Fees and Parking will be charged extra as actual.

Minimum 250 km per day

---
Specifications : ( Ac Tempo Traveller )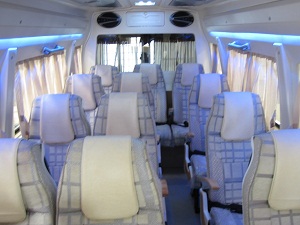 Fully pushback & sofa seats

Leather fabric upholstery

High Music system

Color LCD screen(as per the availability)

Both AC & Non AC variant available

Icebox, First Aid Box

Expert Driver in uniform

Roaming mobile phone with Car and driver
(Terms and conditions For Tempo Traveller)
Time and Kilometers will be calculated from Delhi Our Office

Driver Allowance Rs.300 per day

All Government Inter State Taxes

Toll Fees and Parking will be charged extra as actual.

Minimum 250 km per day

---
Travelling in a tempo compared to in a car or bus is much easier and more intimate, especially when travelling with family, friends, or business associates. Stopping anywhere is not a hassle like in a bus, and there's more room than in cars. We provide tour packages and facilities for not just in Delhi, but all over North India. We offer information about all the places, tips on the best places to eat and shop. Travelling in a tempo also offers you the chance to strike up conversations with different people. Our friendly and helpful staff will also ensure you have safe, memorable, and enriching travelling experience as you explore India. Golden Triangle Tour Packages
Specifications : ( Ac Tempo Traveller )
Fully pushback & sofa seats

Leather fabric upholstery

High Music system

Color LCD screen(as per the availability)

Both AC & Non AC variant available

Icebox, First Aid Box

Expert Driver in uniform

Roaming mobile phone with Car and driver
(Terms and conditions For Tempo Traveller)
Time and Kilometers will be calculated from Our Office

Driver Allowance Rs.500 per day

All Government Inter State Taxes

Toll Fees and Parking will be charged extra as actual.

Minimum 250 km per day

Tempo Traveller is the best 26 seater tempo traveller hire in Delhi. Tempo Traveller Hire Delhi location at the heart of the city has also made us one of the most luxury tempo traveller on rental services Delhi car rentals
Specifications : ( Ac Tempo Traveller )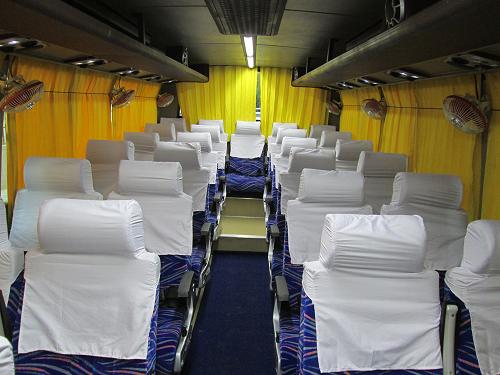 Fully pushback & sofa seats

Leather fabric upholstery

High Music system

Color LCD screen(as per the availability)

Both AC & Non AC variant available

Icebox, First Aid Box

Expert Driver in uniform

Roaming mobile phone with Car and driver
(Terms and conditions For Tempo Traveller)
Time and Kilometers will be calculated from Our Office

Driver Allowance Rs.500 per day

All Government Inter State Taxes

Toll Fees and Parking will be charged extra as actual.

Minimum 250 km per day
Luxury Tempo Traveller @ Rs.20 Per Km
For more details on fare and availability, Call us : 9212500444 / 9211204827
[Contact_Form_Builder id="3″]