Rajasthan's beautiful Pink City Jaipur, was the stronghold of a clan of rulers whose three hill forts and series of palaces in the city are important attractions. Known as the Pink City because of the colour of the stone used exclusively in the walled city, Jaipur's bazaars sell embroidered leather shoes, blue pottery, tie and dye scarves and other exotic wares. Western Rajasthan itself forms a convenient circuit, in the heart of the Thar desert which has shaped its history, lifestyles and architecture.
The story goes that in 1876, the Prince of Wales visited India on a tour. Since the colour pink was symbolic of hospitality, Maharaja Ram Singh of Jaipur painted the entire city pink. The pink that colors the city makes for a marvelous spectacle to behold. Jaipur rises up majestically against the backdrop of the forts Nahargarh, Jaigarh and Moti Doongri.
The best time to visit this place is between October and March. Since the weather is pleasant during these months, that allows one to explore more of this place without getting scorched in the seething heat. This city of Rajputs is well known for its fairs and fests that are held on a grand level. The festivals include kite festival, camel festival, teej, gangaur, elephant festival, to name a few. The city witnesses maximum tourists during these days.
My Tempo Traveller offer to book cheap and best travel deals on budget rates online provides low price tour and travel hotel packages,  We offer 9, 12, 14, 15, 16, 17, 18, 20, 22, 26 seater Luxury Tempo Traveller Hire in NCR.

Luxury Tempo Traveller Hire in Delhi Noida on Rent at Cheapest Price Per Km 7,9,10,12,16,18,20,26 Seater Luxury Tempo Traveller on Rent in Delhi

Tempo Traveller Hire Delhi, Tempo Traveller Hire in Delhi
Specifications : ( Ac Tempo Traveller )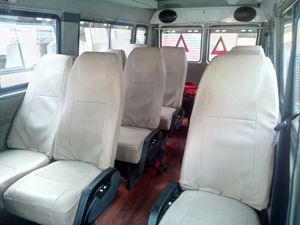 Fully pushback & sofa seats

Leather fabric upholstery

High Music system

Color LCD screen(as per the availability)

Both AC & Non AC variant available

Icebox, First Aid Box

Expert Driver in uniform

Roaming mobile phone with Car and driver.
(Terms and conditions For Tempo Traveller)
Time and Kilometers will be calculated from Delhi Our Office

Driver Allowance Rs.300 per day

All Government Inter State Taxes

Toll Fees and Parking will be charged extra as actual.

Minimum 250 km per day

---
Specifications : ( Ac Tempo Traveller )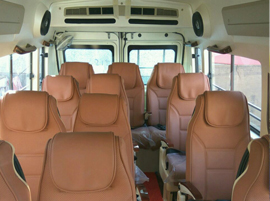 Fully pushback & sofa seats

Leather fabric upholstery

High Music system

Color LCD screen(as per the availability)

Both AC & Non AC variant available

Icebox, First Aid Box

Expert Driver in uniform

Roaming mobile phone with Car and driver
(Terms and conditions For Tempo Traveller)
Time and Kilometers will be calculated from Delhi Our Office

Driver Allowance Rs.300 per day

All Government Inter State Taxes

Toll Fees and Parking will be charged extra as actual.

Minimum 250 km per day

---
Specifications : ( Ac Tempo Traveller )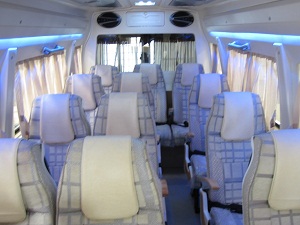 Fully pushback & sofa seats

Leather fabric upholstery

High Music system

Color LCD screen(as per the availability)

Both AC & Non AC variant available

Icebox, First Aid Box

Expert Driver in uniform

Roaming mobile phone with Car and driver
(Terms and conditions For Tempo Traveller)
Time and Kilometers will be calculated from Delhi Our Office

Driver Allowance Rs.300 per day

All Government Inter State Taxes

Toll Fees and Parking will be charged extra as actual.

Minimum 250 km per day

---
Travelling in a tempo compared to in a car or bus is much easier and more intimate, especially when travelling with family, friends, or business associates. Stopping anywhere is not a hassle like in a bus, and there's more room than in cars. We provide tour packages and facilities for not just in Delhi, but all over North India. We offer information about all the places, tips on the best places to eat and shop. Travelling in a tempo also offers you the chance to strike up conversations with different people. Our friendly and helpful staff will also ensure you have safe, memorable, and enriching travelling experience as you explore India. Golden Triangle Tour Packages
Specifications : ( Ac Tempo Traveller )
Fully pushback & sofa seats

Leather fabric upholstery

High Music system

Color LCD screen(as per the availability)

Both AC & Non AC variant available

Icebox, First Aid Box

Expert Driver in uniform

Roaming mobile phone with Car and driver
(Terms and conditions For Tempo Traveller)
Time and Kilometers will be calculated from Our Office

Driver Allowance Rs.500 per day

All Government Inter State Taxes

Toll Fees and Parking will be charged extra as actual.

Minimum 250 km per day

Tempo Traveller is the best 26 seater tempo traveller hire in Delhi. Tempo Traveller Hire Delhi location at the heart of the city has also made us one of the most luxury tempo traveller on rental services Delhi car rentals
Specifications : ( Ac Tempo Traveller )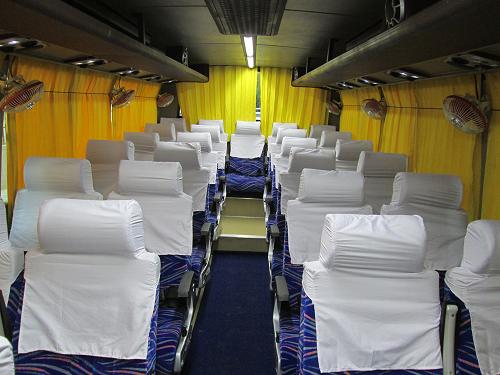 Fully pushback & sofa seats

Leather fabric upholstery

High Music system

Color LCD screen(as per the availability)

Both AC & Non AC variant available

Icebox, First Aid Box

Expert Driver in uniform

Roaming mobile phone with Car and driver
(Terms and conditions For Tempo Traveller)
Time and Kilometers will be calculated from Our Office

Driver Allowance Rs.500 per day

All Government Inter State Taxes

Toll Fees and Parking will be charged extra as actual.

Minimum 250 km per day
Luxury Tempo Traveller @ Rs.20 Per Km
For more details on fare and availability, Call us : 9212500444 / 9211204827
[Contact_Form_Builder id="3″]