---
Tempo Traveller on Rent in Delhi @ Rs.14 Per km
Delhi to Katra Vaishno Devi, Cabs in Delhi to Katra Vaishno Devi, Car Hire in Delhi to Katra Vaishno Devi, Car Rental Services in Delhi to Katra Vaishno Devi, Car Rental Delhi to Katra Vaishno Devi, Delhi to Katra Vaishno Devi Distance, Delhi To Katra Vaishno Devi One Way Taxi Services, Delhi to Katra Vaishno Devi Tour Package, place to visit in Katra Vaishno Devi, Taxi in Dehi to Katra Vaishno Devi, Toyota Innova Car Hire Delhi to Katra Vaishno Devi
MTT – My Tempo Traveller offers budget rates Non AC in Delhi Noida Gurgaon Ncr India loaded with sofa and bed back to back pushback seats. LED TV and Music Streao System in our luxury tempo traveller in delhi with more luggage spaces and White seat covers & curtains. Along with GPS you will also be provided with remote based emergency system which will make your journey convenient & safe. You can get a safe journey by travelling Book Tempo Traveller with My Tempo Traveller offer to book cheap and best travel deals on budget rates online provides low price tour and travel hotel packages, Tempo Traveller Hire Delhi, Tempo Traveller Hire in Delhi

Lower Price:

Rs.14 Per km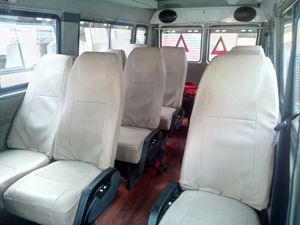 Seat : 8 Passengers + 1 Driver
Facility : AC, Pusback Seat, Music
Starting Fare Per Km : Rs 15/-
Driving Charges : Rs. 300/- (Per Day)
Extra : Toll, state taxes and parking

Lower Price:

Rs.16 Per km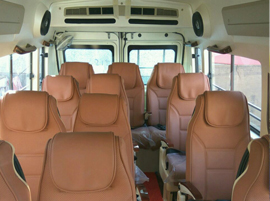 Seat : 12 Passengers + 1 Driver
Facility : AC, Pusback Seat, Music
Starting Fare Per Km : Rs 16/-
Driving Charges : Rs. 300/- (Per Day)
Extra : Toll, state taxes and parking

Lower Price:

Rs.20 Per km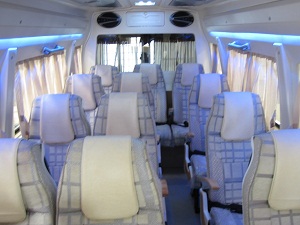 Seat : 15 Passengers + 1 Driver
Facility : AC, Pusback Seat, Music
Starting Fare Per Km : Rs 20/-
Driving Charges : Rs. 300/- (Per Day)
Extra : Toll, state taxes and parking

20 Seater Tempo Traveller
Lower Price:

Rs.25 Per km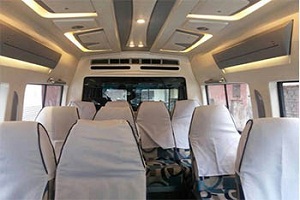 Seat : 19 Passengers + 1 Driver
Facility : AC, Pusback Seat, Music
Starting Fare Per Km : Rs 25/-
Driving Charges : Rs. 500/- (Per Day)
Extra : Toll, state taxes and parking

Golden Triangle Tour for 05 Nights 06 Days , Golden Triangle Tour Packages 4 Nights 5 Days
Lower Price:

Rs.28 Per km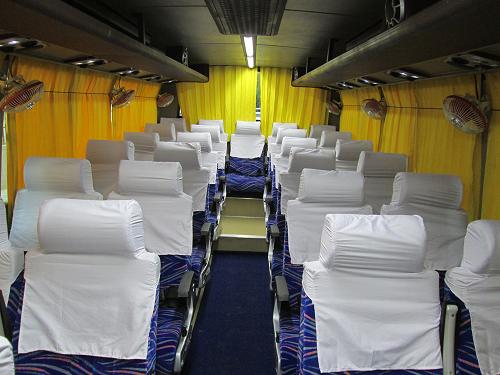 Seat : 25 Passengers + 1 Driver
Facility : AC, Pusback Seat, Music
Starting Fare Per Km : Rs 28/-
Driving Charges : Rs. 500/- (Per Day)
Extra : Toll, state taxes and parking

Lower Price:

Rs.16 Per km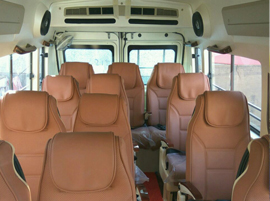 Seat : 11 Passengers + 1 Driver
Facility : AC, Pusback Seat, Music
Starting Fare Per Km : Rs 16/-
Driving Charges : Rs. 300/- (Per Day)
Extra : Toll, state taxes and parking

MTT Online Hotel Booking for TEMPO Outstation Car / Taxi Hire in Delhi Rates – Tempo Traveller

Specifications : ( Ac Tempo Traveller )
Fully pushback & sofa seats
Leather fabric upholstery
High Music system
Color LCD screen(as per the availability)
Both AC & Non AC variant available
Icebox, First Aid Box
Expert Driver in uniform
Roaming mobile phone with Car and driver
(Terms and conditions For Tempo Traveller)
Time and Kilometers will be calculated from Our Office
Driver Allowance
All Government Inter State Taxes
Toll Fees and Parking will be charged extra as actual.
Minimum 250 km per day
Jaipur Tour Packages , Jaisalmer Tour Packages,
Udaipur Tour Packages, Mussoorie Tour Packages,
Toyota Innova Car Hire in Delhi – Rs.12 per Km
4 Seater Car Rental – Rs.10 per Km, Rishikesh Tour Packages

If your planning for hiring a tempo traveller on Rent for out station trip
[Contact_Form_Builder id="3″]
CALL US for Best Price: 9212500444 / 9211204827 / 8826344121 For any assistance or clarifications on travel related information, please feel free to get in touch with us. We specializes in Tempo Traveller Booking, Hotels and Resorts Booking / Holiday Tour Packages / Car Rentals / Ac Volvo Bus Booking Delhi to Manali Katra Shimla / India Flights Booking / Group Tour Packages and Make Your Honeymoon Tour & Vacation Tours Memorable One for Lifetime & Many More. if you need information about your trip...OR Email Id : mytempotraveller@gmail.com We will be sending a Travel voucher as the confirmation of above booking soon after getting advance payment, please make the above payment as soon as possible so as to confirm your booking at the earliest... Cancellation Policy 1. Cancellation received from more than 15 days prior to arrival -25% of total billing. 2. Cancellation received less than 14 and up to 8 days prior to arrival -50% of total billing. 3. Cancellation received less than 7 days prior to arrival -100% of total billing.